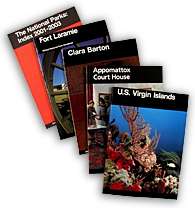 Government Documents holds an extensive collection of NPS publications, including the following series:
Park science (I 29.3/4:) Presents brief articles about scientific research and resource management in national parks.
CRM (I 29.86/2:) The journal of heritage stewardship.
National park handbooks (I 29.9/5:) The familiar colorful guides to individual parks.
National park map/guides (I 29.9/2:)The brochures with maps that are handed out to park visitors.
Preservation briefs (I 29.84:) Brief publications that describe techniques for preserving architectural features.
Preservation tech notes (I 29.84/3:) Technical publications about preserving and protecting architectural features.
Historical resource study (I 29.58/3:) In-depth historical reports about sites administered by NPS.
Historic structure reports (I 29.88:) As the name implies, these publications provide basic data about historic structures for preservation and planning purposes.
We also have a variety of general publications, maps, pamphlets, children's activity books, CD-ROMs, and other materials.
There are a number of Congressional hearings and reports about NPS and various national parks. You can use ProQuest Congressional (UHM login required) to search for these materials. Access is restricted to UH Manoa faculty, students, and staff, and we will be happy to conduct searches for other users.
Documents covering 1910-1932 are available in the Executive Branch Documents microfiche set. Please contact a government documents librarian if you have questions about our holdings.