Skip to Main Content
It looks like you're using Internet Explorer 11 or older. This website works best with modern browsers such as the latest versions of Chrome, Firefox, Safari, and Edge. If you continue with this browser, you may see unexpected results.
Books on Design Thinking
The Hamilton Library loanable technology collection has equipment to help you digitize material stored in other media.
Digital Film & Slide Scanner, KODAK SCANZA
Converts 35mm, 126, 110, Super 8 & 8mm Film Negatives & Slides to JPEG. Includes large tilt-Up 3.5" LCD, film Inserts, and adapters.
---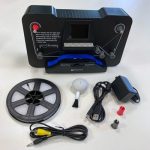 Film Digitizer - Wolverine 8mm and Super8 Reels
Wolverine film digitizer for 8mm and Super8 reels. SD Card for device must be 32MB or smaller..
---